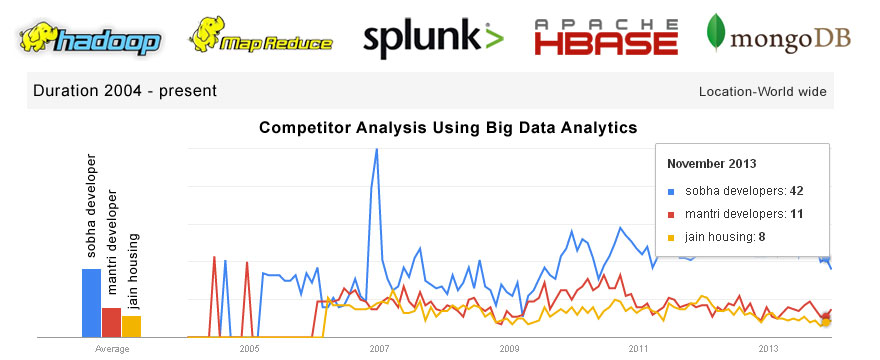 WHAT IS BIG DATA ANALYTICS?
A most advanced technology of the country to dig down different types of data, organize with logics and have a perfect required output in a fast way without using more hardware infrastructure and man power finally a solution to solve a big heap of data and keep it in a perfect size solutions using different tools.
THINK SIMPLE WITH BIG DATA ANALYTICS
Istudio Technologies Chennai, India is the only companies in Chennai to provide Big Data Analytics Services .We are always unique in our service always. Most of the companies are traditional Analytics such as sentimental analytics with feed or face book clicks. But, we are entirely different.
We bring the top class technology for Real-estate Developer to find a solution for their Business. Our Big Data Analytics gives you more ROI in all aspects.
CASE STUDY: IMPLEMENTATION OF BIG DATA ANALYTICS & REAL ESTATE DEVELOPER PROBLEM IN THE EXISTING SOLUTIONS:
Everyone in the business thinks about the competitor .They want to perform better than their competitor. Every one of us is searching for the Builders who provide best quality of homes. So, All Builders do extensive. Marketing both offline and online but whatever they do customer searching them in internet and their project. All builders are trying to get the Internet presence of the competitor. But no one of the builder will gets it.
OUR SOLUTION:-COMPETITOR ANALYSIS
Istudio technologies use Big Data Analytics for tracking each and every single search for your company name, project name, area name ect..We use 50+ parameters and analyze tetra bytes of data of yours and your competitors. So finally with our Big Data Analytics solutions you will get a good competitor comparisons report for the past 10 years.
SALES PREDICTION FOR THE NEXT 3 MONTHS USING BIG DATA ANALYTICS

One of the most important solutions using Big Data Analytics is sale prediction. Our experienced mathematics and logical professional predict the sales using your past performance and current market scenario and with customer view. This predictive analysis is the crown in Big Data Analytics.
WE ANALYZE THE ENTIRE WORLD WHAT LOOKS FOR?

Istudio Technologies provides you a most important and valuable services that helps Real estate companies to track the location search report throughout world. This helps the companies to analyze what is the top most location and best location searched by people throughout the world. This will helps you to do offline marketing activities in a proper way
WHERE TO INVEST IN ONLINE?
One of the biggest million dollar question among the real estate developer is where to invest in Internet Marketing. There one many internet portals to market and generate leads to your portal.But truly not all portals perform well. We provide you a forecast report for every month and we help you to allocate the funds to invest in a potential portal to get more Business and Branding. Istudio Big Data Analytics helps you to get more ROI