E-Commerce
Mobile App Development
Revamp your business sales through an all-round,
custom-made e-commerce app
Improve your customers' experience through a personalized, enriched e-commerce application suitable for small-, medium-, and large-scale enterprises.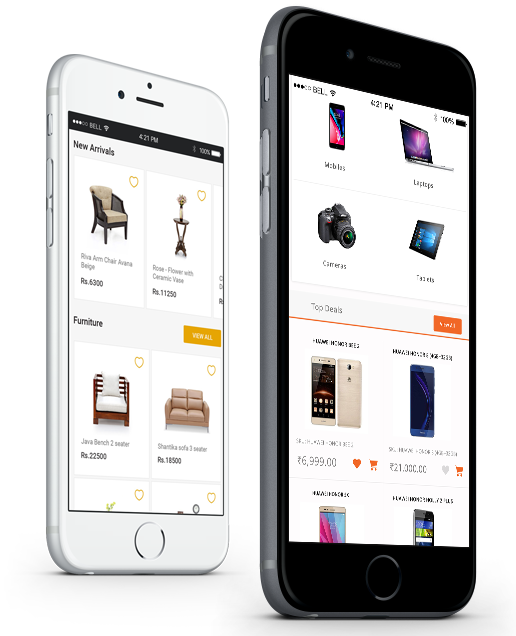 E-Commerce Mobile App Development
Businesses need mobile apps to improve their visibility and to gain competitive advantages. Any entrepreneur not using an eCommerce app is, therefore, losing out on customer attraction, retention, and loyalty. An e-Commerce mobile app development will not only boost your company's expansion strategy but will also improve customer engagement. As you seek to launch an eCommerce app, you need to perform adequate market research, planning, development, and testing, among other activities, to ensure that your business stands out amid the competition. It is also advisable that you hire the services of experts in the field of eCommerce app development.
Being the best mobile app service provider in India, iStudio has invested in advanced technologies to design top-notch eCommerce applications for online businesses. The eCommerce development solutions will enhance your customer's engagement through custom-made and interactive designs. We have years of experience developing eCommerce apps for startups and small businesses, as well as for medium- and large-scale organizations. We pride ourselves in delivering quality services that not only highlight the best in our prestigious clients, but also present our quality skills and capabilities in mobile app development.
Categories of
E - Commerce Applications
eCommerce mobile applications are designed to suit different types of industries. Our eCommerce mobile app developers have experience providing seamless mobile solutions to many industries and businesses. We are available to develop an eCommerce app for any of the below kinds of businesses:

Entrepreneurs
Businesses that need to venture into e-commerce can do so using our user-friendly and advanced eCommerce applications.

Traditional business entities
We support brick-and-mortar stores looking to venture into e-commerce. Our outstanding team of eCommerce developers is on stand by to catapult your traditional business setting into a one-stop online shop.

Joint ventures
Partnerships and joint ventures can upscale their businesses using a custom
eCommerce mobile app

Business-to-business
We develop eCommerce applications to support business activities between two or more companies, such as distribution relationships between retailers.

Business-to-customer
Our eCommerce app developers will design an application suitable, enabling your business to sell products, such as electronics and beauty products directly to customers.

Business-to-administration
For businesses focusing on marketing and selling their products to governments, we have got you covered. The eCommerce mobile application will your core business functions, such as licensing and planning services.

Customer-to-customer
Our state-of-the-art app development tools will support customer-to-customer interactions and activities, such as in-app chats and social media plugins.

Customer-to-business
The eCommerce app development team will create a platform where customers can interact with the business directly, such as live chat tools and product review-platforms.

Customer-to-administration
This feature enables customers to perform tasks, such as tax filing and scheduling of appointments with the land registrars.
Users of
Our E-Commerce Mobile Apps
The eCommerce mobile applications are developed for the following types of businesses:

Suppliers of Electronics
Business operating multiple stores can use this application to manage sales of electronic products, such as home appliances, laptops, computers, and others.

Grocery Store
Owners of grocery stores can use a Custom eCommerce Mobile App as a shopping platform. Here, businesses can take online orders and deliver different types of groceries at the customer's doorsteps.

Shopping Mall
Shopping mall owners can use the eCommerce application to design a complete, user-friendly solution for shoppers.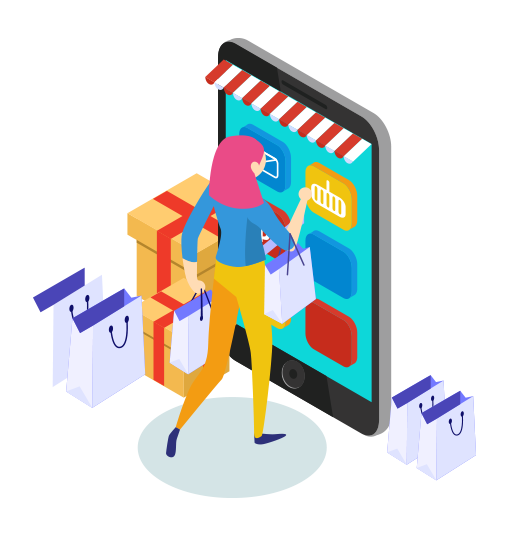 Suppliers of Sports Equipment
Businesses running gym and sports equipment can enroll the services of eCommerce app developers to sell a range of products online, across different cities and states in the country.

Jewelry Store
Business people running jewelry outlets can advantage of the eCommerce application to sell diverse types of jewelry to customers.

Furniture Manufacturers
Businesses running furniture stores in different locations can use eCommerce development solutions to run and manage all storefronts from a single online space.

Healthcare Providers
A businessman seeking to integrate operations in multiple healthcare facilities can use this app to achieve a unified solution.
The Features of
Our E-Commerce Mobile Applications
iStudio's dedicated team of eCommerce mobile app developers can design apps capable of meeting the diverse needs of users. Our team of experts builds perfect eCommerce mobile applications as solutions for startups, retailers, wholesalers, and other types of entrepreneurs. These apps come with the following features:
The eCommerce mobile app developers will integrate additional features to improve user experience and business performance.
These features include:
Frequently Asked Questions (FAQs)