Right Time To Attain Digital Transformation For Your Physical
Retail Store
Retail Billing Software in Chennai, India
Handle your inventories seamlessly and efficiently like never before by making the complete use of our retail pos software that maintains a perfect equilibrium between your on-stock and of-stock inventories of your physical store. The retail point of sale system we develop cut-down the unnecessary chaos happens in managing the inventories and ensures profitability in running your retail business.
Customers, Consumers, and Clients are the key driving force of any business, dedicated strategies, and a huge amount gets invested in earning these people and retaining them with loyalty. Retail is one exponentially competitive sector that demands 200% dedication in business operability from its players to achieve success, by implementing our POS software retailers can now acquire and expand their customers without any complexities.
Customer Management Modules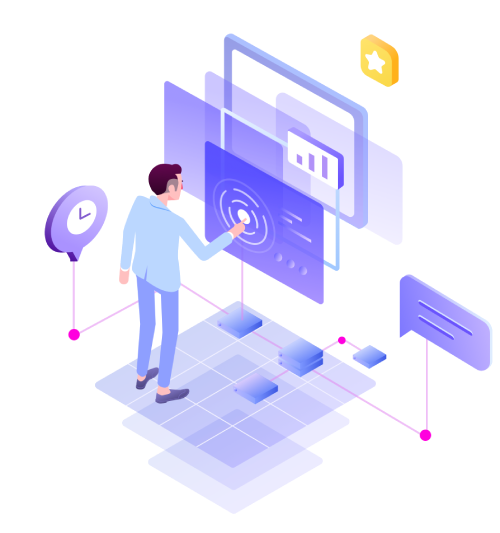 Positioning and Placement are the two crucial elements that decide the success ratio of your retail store every day. A detailed and highly skillful idea about your target customer base required to place the right product at the position to drive the sales, our advanced retail POS system takes care of the position by providing thoughtful ideas in product placement according to their category.
Online money transaction is a compelling activity in this digitized era, where organizations and other enterprise businesses need to adapt it with the advent in the payment process. By integrating our retail POS software, now the bricks and motor stores can achieve the perfect digitization landmark, where the assurance of security is the base for any technology adoption, and it gets witnessed in our secured payment integration.
Scalability found to be essential in measuring the efforts implemented to convert the physical retail store into a digitized one. Especially when it comes to sales and marketing efforts, they need a review system that exactly performs the role of devil's advocate in sorting out the pros and cons and projecting them to the concerned store owner. The scalability function in our retail POS software involves the same act in navigating the store owner to the right path of business development.
A definite and non-replaceable support system for the scalability feature, that carries out an in-depth analysis of every single operation takes place within the retail store and connects it with the sales and business generation to attain and generate a detailed report to be viewed by the concerned person with high clarity that helps them in making sound business decisions.
Monitor, operate and do your retail business from anywhere using our cloud-integrated point of sale system, the retail POS we provide embeds cloud solution in it that completely breaks down the stereotypical management process by its out-of-box execution. We exhibit profoundness in our service by helping you and your retail staffs to get easily accustomed to our cloud-based POS service.
Maintaining sheer accuracy and exceptional clarity with the amount generated from sales is what you can expect from our retail POS system. We provide the best retail POS software that holds the perfect record on incurred sales and the spending on stocks, with a neat and well-made tally report which is completely system generated and updated in the database.
A dedicated section, to integrate third-party software, and other allied tools, that pave the way to friction-free operability of your retail store. Apart from monitoring and improving your retail store sales, one needs to maintain the additional operations of customer management, billing and accounting, employee management, promotions, licensing, and other promotional activities that require the assistance of dedicated software for swift improvement.