Higher productivity is possible now as our CMMS tool ensures uninterrupted asset performance
Our Out-Of-Box CMMS Solutions From IStudio Technologies
A dashboard that interacts with you
A highly lucrative dashboard holding complete details about all your miniature equipment and depicts their status through simple yet effective color coding.
Engage- Interact- Resolve maintenance issue
A highly interactive communication platform which is unique of its kind that helps technicians, plant managers, and admin to gather in a single stage to analyze and sort out defective equipment.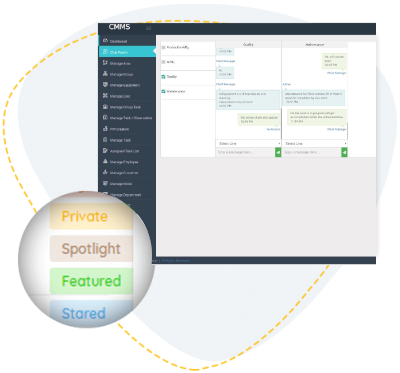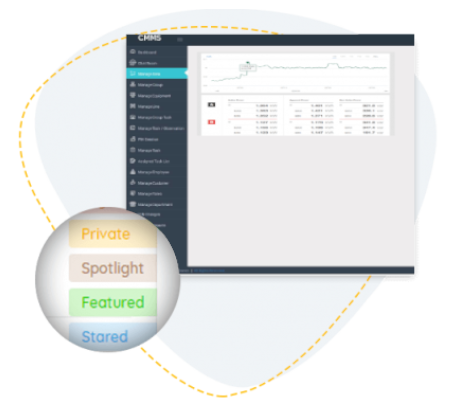 Equipment Health Monitoring
No more manual maintenance allocation
Our self-automated CMMS software tracks the health condition of equipment in its life journey and schedules the preventive maintenance regularly without manual assistance.
Maintenance deployed at right time
Incorporating deep learning algorithm, iStudio Technologies deploy predictive maintenance approach that performs machinery maintenance through solely analyzing its past failure and maintenance track record and predicts the right time to carry out its subsistence.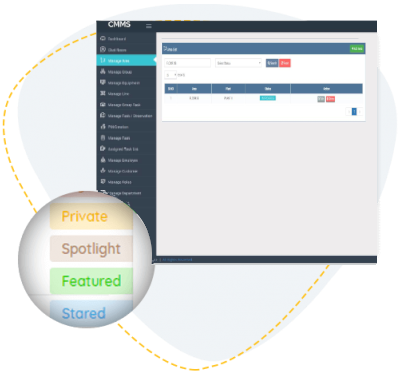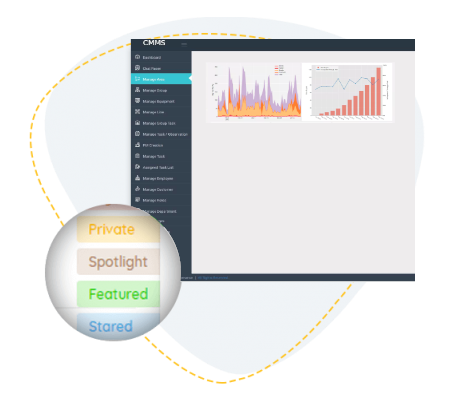 Analyze and react to situations
Our deep-rooted analytical CMMS software simplifies your overall maintenance process by delivering proficient data visualization metrics which represents the entire participants in a crystal clear way.
Our End-To-End CMMS Services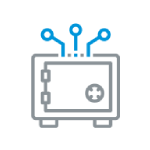 Companies which belongs to the manufacturing industry always find it difficult when it comes to managing their assets which eventually leads to a chaotic situation of low productivity. We deliver enhanced CMMS software for manufacturers to overcome the prevailing complexities in asset management and gear up their production.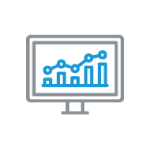 Practice the most hassle-free production activity by adopting our highly-integrated automated work order management. By acquiring our Enterprise Asset Management solutions, you can easily manage the entire work order that leads to uninterrupted production and reduced downtime as well.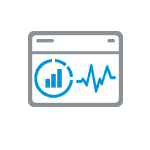 Attain the complete technical operability details of the spare parts and machines involved in your production process and set operational limits to equipment to attain desired productivity result. We are the leading CMMS solution provider who nourishes your manufacturing activities by delivering completely automated CMMS software to analyse conditions in a better way.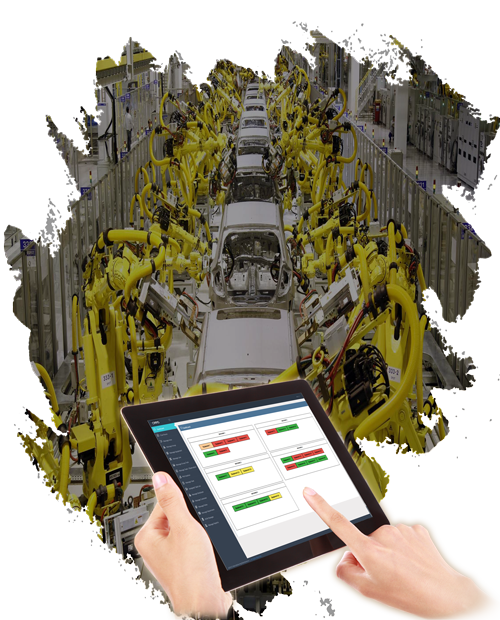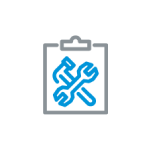 Preventive Maintenance Scheduling
Metre-wise or calendar-wise equipment and machinery maintenance are no more a tedious process post the arrival of our innovative automated CMMS tool that carries out the entire preventive maintenance task in a seamless way. By embedding our CMMS software, now you can automate scheduled monitoring process and focus on other development activities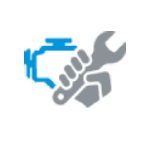 Are you still unaware of the inventory checklist of your spare parts and other equipment and this setback is this setback disturbs your manufacturing process? Then it is the proper time to avail our efficacious CMMS software services we help you in attaining complete details on available inventory stocks by tracking your purchase order.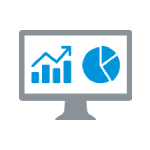 By implementing our holistic CMMS software, you can now attain great clarity over the production process and the key elements involved in it. We provide a highly useful dashboard that delivers deep-rooted insights and analytics that helps management to take a sound decision on their future spending over their manufacturing accessories.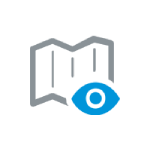 Our self-driven automated CMMS software helps you in visualising the data involved these data includes floor plan, schematic, and site map. We are the leading CMMS software provider who help you in visualising the entire preventive maintenance process using our visual planning method.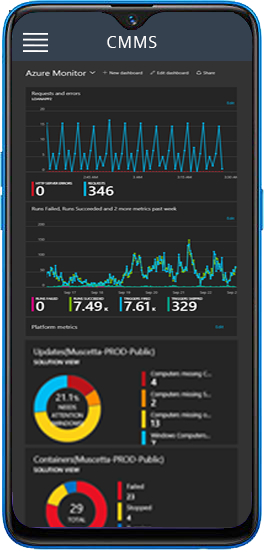 Our enriched CMMS software solutions are available in the mobile format and work well across platforms. By using our mobile app now, your technicians can carry out the maintenance, repair and other task scheduling process in a hassle free way.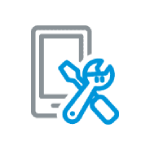 By adopting our advanced CMMS software service, now you can store and operate the entire production process from the cloud. This deployment brings you with great integrity, high efficiency and uninterrupted workflow.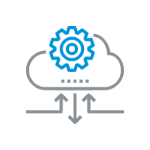 Our prolific CMMS tool helps you get to integrate with ERP solutions of your concern to carry out the production in a structured format. Our tangible CMMS services helps you easily configure your tools and equipment that keeps you ahead of the industry standards.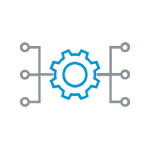 Getting To Know About CMMS
Computerised Maintenance Management System or Enterprise Asset Management system is an approach of handling your production equipment and machinery in an efficacious way by monitoring its operation in a 360-degree viewpoint and helps to enhance their productivity.
This system has got transformed from manual deployment to systemised implementation, and now everything gets automated when it comes to handling the production assets. Despite the industry, this process can be deployed anywhere to improvise overall productive of the entire system in a customised execution method.
This solution mostly gets coordinated with manufacturing businesses where the maintenance, facilities and operational department handles the process. A CMMS solution is helpful in various aspects like: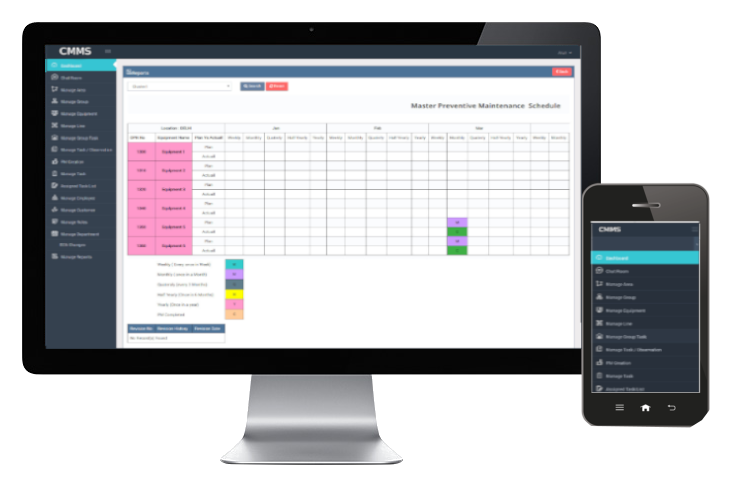 A CMMS software carries out an end-to-end process in managing your assets by recording their details, automating their function, and deliver process request. This software carries out equipment monitoring and plans their maintenance accordingly by keeping in track of inventories on the other hand. A CMMS software will also generate a timely report on the performance of machines and equipments which helps the management to make a well-informed decision on their usage. CMMS is a flexible solution prevails in different formats which help organisations to adapt them according to their business process. Once existed only as a manual deploying process this solution is now available in web-based as well as Software as a Solution model which ensures increased ROI (Return On Investment) and low TCO (Total Cost Ownership).
Any organisation got involved in the production or manufacturing of products and sense difficulty in maintaining their production equipment and tracking their performance which involves a high amount of time and money accompanied by unstable manual process. Here CMMS comes to rescue by automating the entire monitoring and work scheduling process.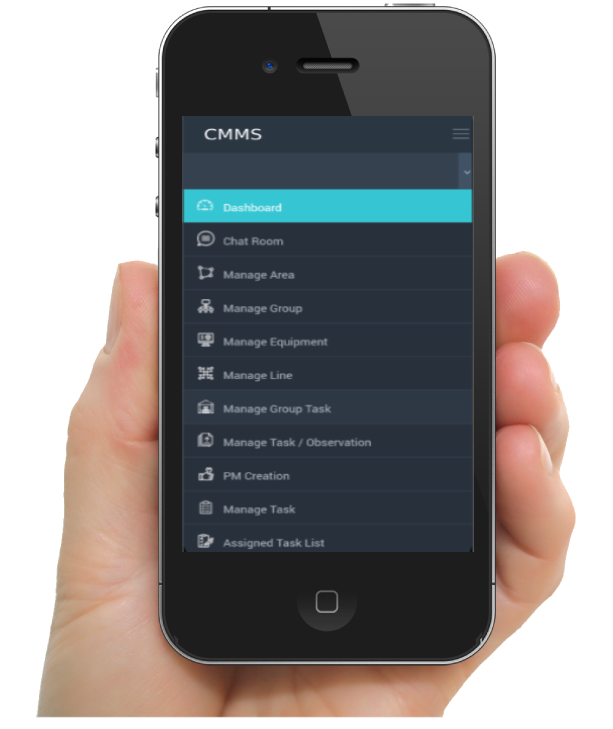 ARE YOU LOOKING FOR WEB DEVELOPMENT COMPANY IN CHENNAI ?
GET THE BEST SOLUTION FOR YOUR BUSINESS