Get Developed Trustworthy App
To Connect Your Peers Online
Lucrative App Development To
Connect-communicate-collaborate Online
Online Meeting Software Development Company
The disruption of digitization is unimaginable in today's business era, and we need to make complete use of it to connect, interact and develop a relationship with our contacts that enhances our life. Today's business professionals expect things to happen instantly and digitization lends a great helping hand to make it happen, online meeting apps are certainly the boon for the current corporate world that helps them to interact with their team, clients, and stakeholders as well in developing their business.
The current pandemic situation has not just isolated us from the regular chores, instead, it has also created a wide scope of opportunity to explore the online space and get connected with our clients and business prospects to keep going with our working process without any interruption. Being a tech-driven Web conferencing software development company, iStudio Technologies helps you in creating a highly competitive online meeting app that possesses several striking features similar to tycoon products like Google Meet.
Why you need a Virtual Meeting App

Virtual meeting app helps in getting connected with your peers easily online

Easily assemble people from different localities

Cost optimization in regards to client meeting

Flexible mode of conversation enabled according to user preference

Enhanced device security is assured
Features Driving our Video Conferencing App

Create Meeting
Create a seamless virtual meeting, using our online meeting software development service, that helps you to denote the agenda, participant details, and happening time, the app will generate unique id code that needs to use and shared by the concerned initiator to carry out the meeting with their involved peers.

Invite Peers
It needs to be mandatory that the involved peers must download the app to take participation in the online meeting, where they will be receiving a proper mail from the initiator that holds the meeting link and the code which is to be used by the concerned participant; the code will certainly be unique for an individual.

Schedule Meeting
The online remote connectivity app we develop for you hold an in-built calendar that registers the meeting and sends a timely reminder to the participants including the host through the mail, message and pop-up alert from the app as well. It embeds the global clock in it and hence it displays the meeting of the participant according to their local time.

Voice Call
The online meeting software development services we provide come up with multiple modes of connectivity that includes voice, video, and text-based communication. Provided with uninterrupted internet connectivity, the engaged participants can avail the feature of carrying on with their meeting where we provide a smooth interface in enhancing the communication.

Video Call
Being the best web conferencing software developer we assure the high definition of visuals and premium quality of the audio that helps the users to connect, interact, and share their ideas close to a real-time approach online. The video calling feature is highly non-disruptive that sets us apart from other online meeting applications.

Chat System
The virtual meeting app we develop for your business hold an in-built chat system in that helps the user to handle different clients at the same time by texting and conversing with others using the multi-mode option. By enabling the multi-mode option, you can now eradicate the setback of missing out the clients and be available to them in any one format.

Screen Sharing
To avail the proof of identity we bring the screen sharing option on-board that helps the participants to share any related screens from their involved device to bring in high-clarity to the person on another end. It does not just simplify the process of explaining a concept to the recipient; instead, it also minimizes the meeting time and hence helps you to focus on the important activities.

White Board
Whiteboard is a unique and interesting feature of the online meeting application we develop, where it converts your phone screen into a proper whiteboard where you can explain a concept similar to that of an in-house meeting. It brings in a high-range of connectivity between the involved participants and hence provides better clarity on the concept as well.

Remote Access
Not just you can conduct meetings with your client, now you can also focus on collaborating with your team by availing our remote meeting app development services, that creates a virtual team and collaborate as you do in your workstation, follow a similar style of workability with your team by maximizing the utilization of our app development service, stepping ahead conduct your talent hunt process proactively.
Accustoming According to Device
Detailing its Workability
Step 1
Install our online meeting app from desktop or mobile app play store or app store according to the device you handle.
Step 2
Create a separate account by providing your email-id and an authenticated password
Step 3
Once you get into the app, now you can find a button named "create meeting" that helps to add your mail-ID and the participant(s) ID as well.
Step 4
Post adding the concerned email addresses the virtual meeting app will send a one-time link for the initiator and participant to use the same and take part in the meeting.
Step 5
Post adding the link, the meeting gets initiated.
Step 1
Depending upon their device usability the participant needs to download and install our app either in their desktop, laptop, smartphone or tablet.
Step 2
Post installing they need create an individual account using their email-ID and a confidential self-generated password.
Step 3
Once you are done with installation and other account generation activities you can now notify the initiator and get the specific link to join the meeting.
Step 4
Participate and enhance your experience with our virtual meeting app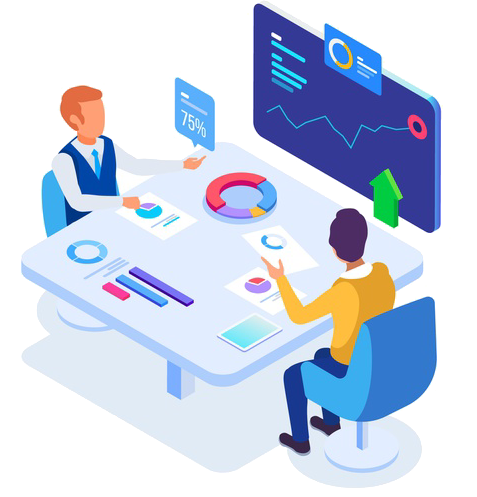 Web RTC
Our online conference app development delivers the best user-experience to the one who adopts its service by implementing the technology of web RTC. Web RTC is all about making things happen in real-time (Real-Time Communication) that eliminates the need for third-party plug-ins or native apps to connect peers in the virtual world and make them share their documents mutually.

Jitsi
Similar to Web RTC Jitsi is also a speculative open-source framework that paves the way to uninterrupted real-time virtual communication online between the involved peers; we are the leading Jitsi virtual conference app developers who help professionals and other vertical clients to carry out their working process and business development activities without fail.
Benefits in adopting Online Meeting App Development Service