Resolve the queries of Customer

Personalized Chat Experience

Recommendation of Products and Deals

Increases Brand awareness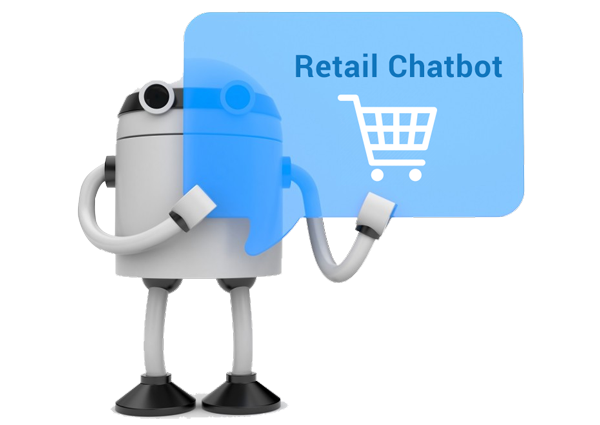 Retail Chatbot Development in Chennai
Don't you think just like the sales person in brick and mortar business your online retail business also require a virtual assistance to assist your customers?
The Retail industry is attaining new heights with the continuous changing technology developments and that is why it is crucial to remain updated with new market trends so that your business can stay at top and does not fade away in the crowd. Chatbots are one of these new evolved technological trends who have the capability to boost up the growth of your retail business. There is no such sector in today's world which is untouched by the importance of Artificial Intelligence. Working of Chatbots is also based on Artificial Intelligence through which it stimulates personalized human conversations with the online customers. Our chat bot gives you better customer engagement as we are one of the retail chat bot development company in chennai.
Can Chatbots provide spark to your Retail Business?
Although retail chatbots have left an amazing impact on the online business yet there is a constant and never ending debate on the issue that whether or not Chatbots are worth to bet one's bottom dollar. To understand the real worth of it let us dig a bit deeper about the benefits it ponder to Retail Business.
iStudio Technologies is one of the best Retail Chatbot development company chennai, india. Also provides services like search engine optimization, responsive web design, graphic discoing and content development to mention just a few. We will make sure that your ecommerce website is interactive and gives the customers an experience that they would want to try again. We believe in making responsive websites not just for desktops but for other mobile devices such as tablets and cellphones as well as these accounts for about 50% of search engine queries nowadays. Our experts make sure that all your projects are submitted on a timely basis and deadlines are met at all costs. Here are some reasons why you must consider our service. iStudio is one of the top chatbot builder in chennai.
The innumerable benefits which the retail chatbots offer can be easily grabbed through our cost effective packages without burning a hole in your pocket. Our services are one of its kind and we also deliver customizable product as per the requirements of our clients. In this world of cut throat competition it is vital to always remain one step ahead of your competitors. Our retail chatbot services are invested with so many perks and benefits that without a shadow of doubt it will take your business at the summit of success.
Are You Looking For Retail Chatbot Development Company In Chennai ?
GET THE BEST SOLUTION FOR YOUR BUSINESS