Gone are the days where patients used to stand in lengthy queues to meet a doctor and get sorted out with their illness. As the entire world is swiftly rushing towards automation, the healthcare industry has got the alarming signal to undergo another technology evolution in its services.In today's scenario, hospitals and healthcare experts have changed a lot through understanding the importance of technology and accepting its sheer presence in the industry which happened through deep-rooted penetration. As of now, the health tracking and medication based testing tools like ECG, EEG and scanning has become very handy.
The lab technicians can now reach patient's spot and perform the required test and then send it to the concerned specialist to carry out the diagnosis process and reveal the end result of the test within a couple of days. But still the technology space is finding ways to provide a better niche for the healthcare industry, by bringing out a proper betterment process as a replacement for current health evaluation system. This paved way towards the discovery of "e-health sensor".
Through medical IoT development, iStudio Technologieslends a warmth helping hand for the entire healthcare industry by providing e-health sensor to operate smarter and provide better treatment.
What Is E-Health Sensor? How Does It Work?
As a medical application platform e-health sensor used to track a particular health condition or more of a person and send immediate report to the concerned health expert. On the other hand, the health expert or the physician receives the report from the patient's side and perform live diagnosis and sort out their issue. We deliver end-to-end IoT healthcare sensors that revolutionize the way the medical world works through simplifying the working procedure of medical technicians and experts.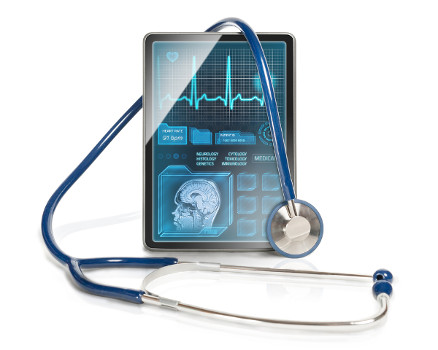 Health monitoring devices are integrated with this medical application to carry out a useful monitoring process and electronic devices will get embedded with the server architecture from the doctor's end. For example, a handy ECG (Electro Cardiogram Sensor) is placed and used to sense the functioning of a person's cardiovascular system.
Post the ECG test has been carried out the report is sent through the application architecture to the respective cardio expert and the specialist analyzes the test result from his/her connected device and performs live consulting.
We are the best healthcare IoT development company in Chennai, India who creates proficient portable health sensors that delivers numerous benefits to users and technicians
We used the advanced architectural type which involves Arduino Atmega 328 microprocessor, it is considered to be the most suitable processor for e-health sensor that holds all the mandatory functionalities. Moreover it very cheap, has open supply hardware that helps user to develop their own kit, collaborates with all the operating system and finally it is the handiest one for new users.
Graphic LCD is the most suitable display kit which highly preferred by handy health monitoring devices like ECG, blood pressure sensor. This kind of LCD gives a picture perfect display of text as well as images.
We use Zigbee network which has the capability of sending data upto 250kbps which uses OQPSK and BPSK modulations in it. This application is already used in home automation, smart grid and remote monitoring processes. It caters some seamless benefits like
Creating prolific IoT healthcare sensors is one such example of our efficiency, and as a tech-giant, we maintain it in all over IoT development process.
In this advanced version of e-health sensor we have embedded a refined set of applications to track various health conditions like:
We are the lucrative medical IoT app development company in Chennai, India who creates the most diversified set of health care tracking devices that uplifts the pace of the industry.
We, at iStudio Technologies, have a professional as well as diligent approach towards all projects that come our way, big or small. Our developers and designers are well-versed in how custom web designing works and strive to ensure deadline-oriented, top quality results. We also provide comprehensive web solutions and help clients in widening their audience. Our developers pay close attention to the requirements and expectations of the clients and ensure that the final result is desirable to them. It is our collective industry experience and field knowledge that has made us a force to reckon with in the world of website development.
Our websites are invigorating, engaging and responsive. We are known for developing user-friendly mobile sites. Such sites account for almost half of the internet activity all around the world. SEO promotion is another one of iStudio's popular services.
ARE YOU LOOKING FOR WEB DEVELOPMENT COMPANY IN CHENNAI ?
GET THE BEST SOLUTION FOR YOUR BUSINESS