A business cannot run without mobile applications in the digitized world, as the potential customers are increasingly using mobile phones for shopping. iStudio Technologies is one of the leading
Mobile application development companies in Chennai
that provides services that include designing and developing native and hybrid mobile applications to suit your business model and current market trends. The convenience and connectivity of mobile apps encourage customers to shop more using their mobile devices these days. Being an award-winning mobile app development company in Chennai, iStudio Technologies offers knowledge-based and expert solutions that fulfill your expectations of getting a customized mobile application on-time.
We offer attractive designs that easily achieve the targets like high performance and lead conversion.
Why choose the best mobile app development company?
Our talented developers and designers have hands-on expertise in various sectors, marketing strategies, and up-to-date with the mobile-trends which makes us one of the best mobile app development companies in Chennai that has satisfied 100+ clients with responsive and robust mobile apps so far. We are specialists in developing and designing native, hybrid, and cross-platform mobile apps that have the full potential to attract your customers and increase your sales revenue.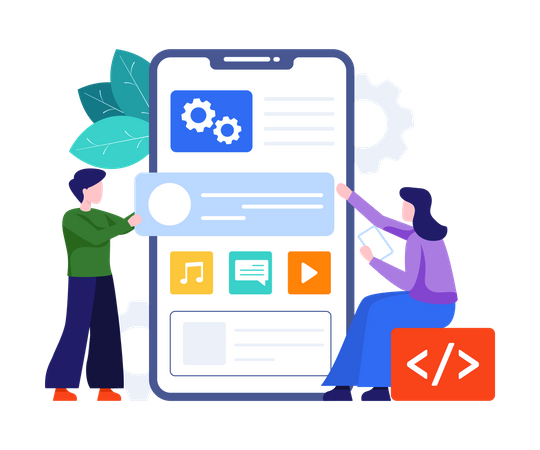 Our talented team is capable of using latest frameworks and help stay one step ahead in the market.
Mobile app development for startups and SMBs
We develop and design mobile apps for many SMBs and also large enterprises across various sectors. We have expertise in developing digital media, restaurants, cabs, remote schooling/tutoring apps healthcare; consultation and drugstore apps, game apps, and eCommerce apps, and the list is endless.
We, at iStudio Technologies, the fast-growing mobile app development company in Chennai, have well experienced mobile app developers and designers developing world-class mobile apps with the implementation of AI Machine Learning and IoT in the mobile app development based on your requirement. At the same time, we ensure that the mobile apps comply with the Android Play Store and Apple Store regulations, and it is ready to reach the potential audience once launched.
iStudio technologies have decades of reputation among its clients for offering robust mobile applications at an affordable price with on-time delivery. We take extra care at every stage of mobile app development to give a final output that always exceeds our clients' expectations.
Get customer-friendly UI/UX and top ranking in the SERP
It is good to opt for to end mobile applications services right from sharing our valuable industry-based expert inputs in planning, designing, and developing mobile apps to offering support in launching your mobile app in the app stores that enhance your brand value and sales. Being one of the low price mobile app development companies in Chennai, we don't compromise on quality at any cost. Get full-fledged, fast-track mobile apps on native, hybrid frameworks and cross-platform apps to enhance your reach to potential customer groups using various devices running on different OSs like Android, iOS, etc. Our skilled designers and developers create the best UI/UX mobile app designs for varied customers and increase their engagement on your mobile apps. They have a keen eye for all the nuances in the design part and also the best coding frameworks to give attractive as well as user-friendly mobile app interface.
Looking for excellent mobile app development at an affordable price
Excellent mobile app design at affordable price
Get affordable Android, iOS development services from us to deliver the best to your customers. We combine our field expertise and latest technology to give the best user experience for your customers by offering robust Flutter and React Native mobile app development services at a price that fits your budget. We, at iStudio Technologies get your inputs and preferences while creating a mobile app development plan. Our experienced designers and developers are up-to-date in coding languages and worked on the latest frameworks. They understand your business needs, market trends, and your customer pulse to decide on the best attributes to include in your app so that you can achieve your targets in a short period once you launch your mobile app in the stores. Being one of the quality mobile app development companies in Chennai, we have successfully gained loyal customers across various sectors and have proved our expertise with uptrend growth in their business.
Mobile applications are the best way to improve connectivity with customers and enhance customer relationships. They increase your brand value and reach by enabling social media connectivity in your mobile app. As we offer mobile app solutions that work on every possible platform and device, you can get maximum, engaging audience for your ideas/products/services on a robust mobile app that will not disappoint you and your customers in any of the aspect.
iStudio Technologies offers the best mobile apps that are tailor-made for your business