Attest the ownership of your assets and earn long-term benefits.
NFT Development-Ensure Unquestionable Ownership of Digital Assets
Non-fungible tokens
hold identifying data in their smart contracts, which distinguishes them. Each NFT represents a specific real-world asset and cannot be changed to or from another token directly. Individuals and institutions may assure entire ownership of their assets by using iStudio Technologies' end-to-end NFT token creation services.
Want to create NFT for your asset?
iStudio Technologies, the best NFT development company, India delivering exceptional services for more than 13+ years globally.
NFT Development Solutions-Bringing About a Paradigm Shift
Non-fungible tokens are one-of-a-kind crypto tokens supported by blockchain technology that may be tied to digital and non-digital assets as a form of authentication. Following its success in the premium art market, NFTs are emerging as the next big thing in a variety of industries, including sports, games, fashion, and others.
Businesses are utilizing services from the NFT development company to get the following NFT benefits:
Non-fungible tokens are a dependable solution for combating the problem of product duplication since they provide unique product identities and authenticate ownership.
NFTs provide total transparency in the product selling process, allowing producers and purchasers to trace the product lifetime with pinpoint accuracy.
Because NFT token creation occurs on a blockchain platform, the high-security code renders the certification indestructible and timeless.
Make use of the advantages of NFTs. Join together with our NFT development company, India as we accelerate your development path.
Want more information about NFT development services?
Create NFT Token with iStudio Technologies
As strong supporters of a decentralized future, we think blockchain-powered tokenomics has enormous potential to address the critical concerns of our day. Non-fungible tokens would enable digital content creators and asset holders to thrive in a democratic environment without the need for hosting agencies. In addition to NFT token creation, we have experience creating end-to-end DeFi products for a range of ecosystems.
Businesses may process huge amounts of scalable tokens as needed with our signature Non-Fungible token creation services.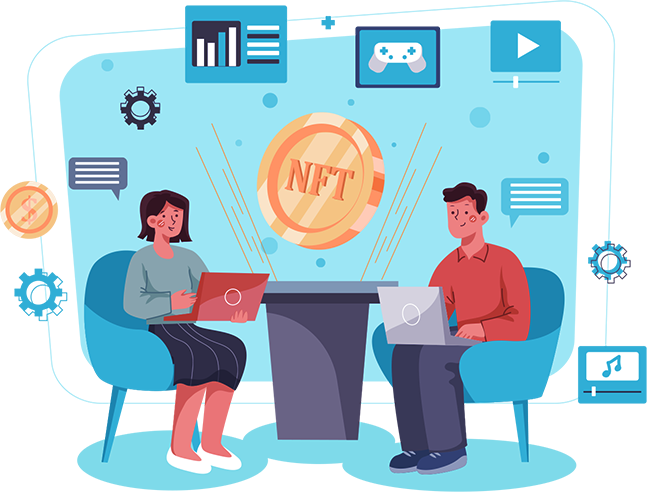 Features of our NFT Token Development
Looking for the perfect NFT development company?
Benefits of Non-Fungible Token Development
Looking for the perfect NFT development company?
iStudio Technologies NFT Development Services
Given our track record of developing products based on complicated algorithms, NFT token creation is an essential component of our DeFi COE.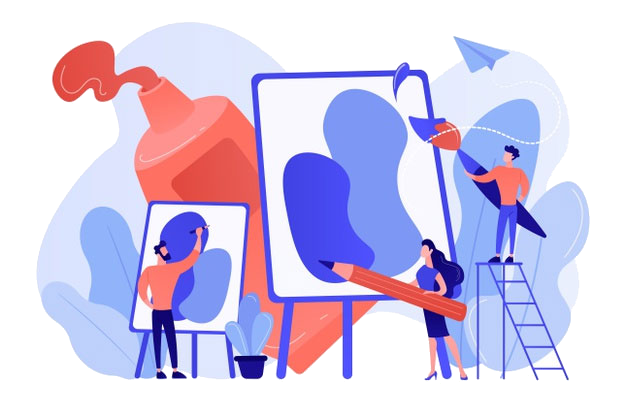 Decentralized Non-Fungible Token Development
Decentralized Non-Fungible Token (DNFT) is based on the DNFT protocol, which is a decentralized cross-chain network that allows the minting, trading, and administration of NFT assets like art, metaverse assets, and more across the blockchain.
At iStudio Technologies, we use the DNFT protocol to create decentralized non-fungible tokens that are suited to various business demands. Our blockchain technologists and domain experts collaborate to provide meticulously constructed decentralized non-fungible token creation services to assist you to achieve your business objectives.
We provide mission-driven solutions that efficiently respond to your demands, whether you choose to tokenize your artwork, video file, or any other asset.
Want more information about NFT development services?
Why choose iStudio Technologies as Your NFT Development Company?
When you work with
iStudio Technologies
, you can count on a team of seasoned NFT developers that have real-world experience building success stories.
We only deal with Blockchain technology. We specialize in one thing and excel at it.
We have the best professionals who can assist you fine-tune your product, recommending the optimal tech strategy, and even building up communities and campaigns.
We create goods that are tailored to your target demographic. A well-planned roadmap guarantees that development and deployment go as smoothly as quickly as possible.
Our labor does not end with the release of a product. We offer comprehensive post-delivery services so you may focus on business growth.
We make a visible difference. We make certain that you receive a return on your investment.
Searching for the best NFT development company, India?
Want to create an NFT for the asset?