Doctors Appointment App Development
Get an exceptional doctor appointment app to reach out to your patients.
Invest in an on-demand, feature-packed doctor appointment app to enhance your medical practice and jumpstart your healthcare business.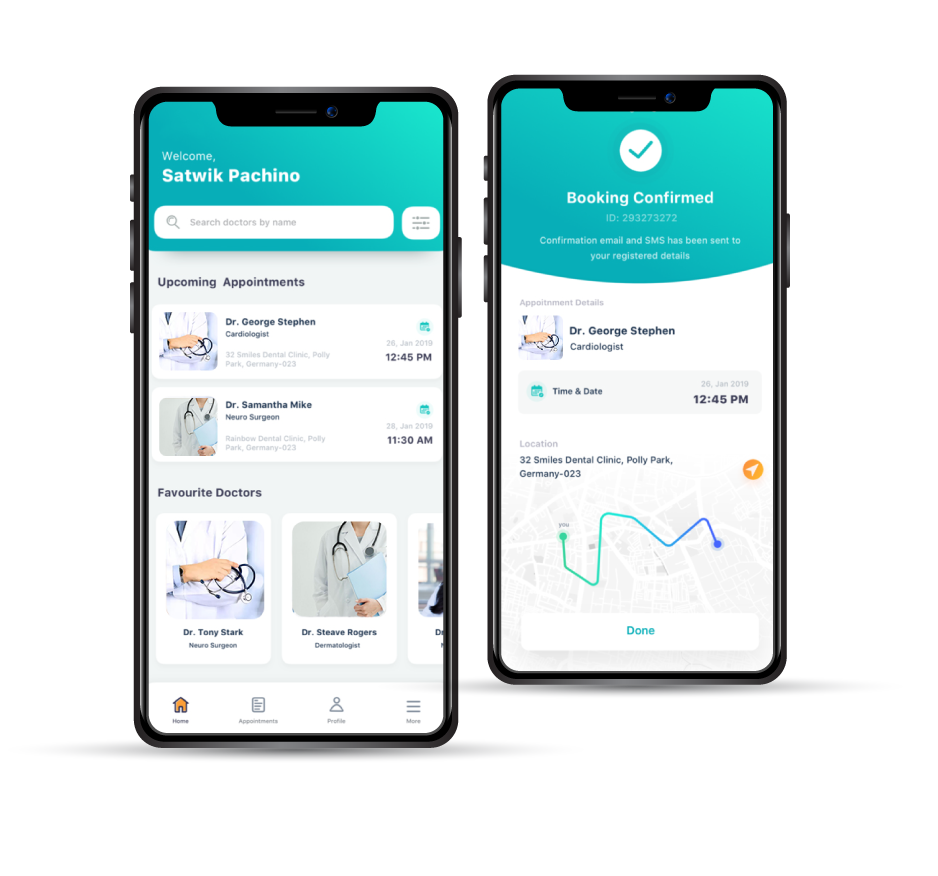 About the Doctors Appointment App
Development Service
iStudio, the best mobile app development company in India, prides itself on the ability to develop advanced applications to scale the needs of healthcare businesses. The doctor appointment app makes it easy for patients to book and schedule doctors' appointments, receive medical reports, and make payments. The mobile app caters to the needs of both Android and iOS platforms, enabling doctors and health seekers to interact seamlessly. The doctor appointment booking software, therefore, assists doctors, clinics, and hospital chains to efficiently channel their patient booking process.
Our doctor appointment app developers are experts in on-demand solutions that simplify the process of appointment scheduling, drawing more patients from the web. The app will also improve interactions between patients and the front desk staff, enabling patients to get real-time and reliable information on the wait time and to schedule an appointment online. The software will also save time for your team, leading to saved time so they can concentrate on smooth operations for your clinic. They can quickly confirm appointments and block off booked slots automatically. Patients who find your website online are more likely to visit you, as they can easily schedule a visit online. Integrating the doctor appointment app into your site will, therefore, be a value add to your business while providing the most-needed convenience for your patients.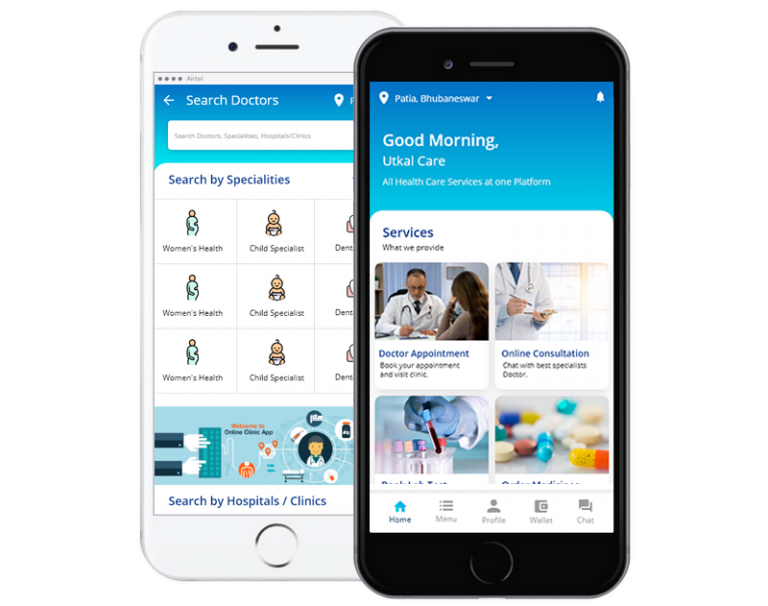 Target Businesses for Our Custom-made
Doctors Appointment App
We support our customers by designing and developing top-notch doctor booking apps. Our doctor appointment app developers have mastered the art of creating the right apps to ensure your clinic's visibility. We delight in developing doctors appointment scheduling apps for the following types of customers: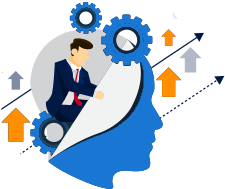 Entrepreneurs
The
doctor appointment booking software
will help entrepreneurs to shift from one-on-one doctor-patient meetings by creating a more user-friendly and convenient digital platform.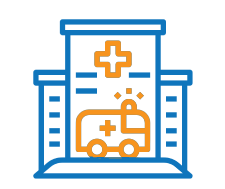 Hospitals
We develop efficient and reliable appointment scheduling apps for clinics and hospital facilities to improve on patient bookings.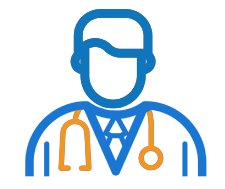 Doctors
Our
Doctor appointment apps
are made for doctors who seek to streamline their time scheduling. They can use the app to channel their reservations, as well as to display their availability.
Unique, Must-Have Features in the
Doctors Appointment App
The doctor appointment app comes with a variety of features for patients, doctors, and the web admin. The app developers integrate these features into the app to ensure smooth and customer-friendly access to appropriate healthcare services. They include:

Easy access, navigation, and appointment booking
Patients can quickly sign up and log in to the app, choose their preferred hospital, department, doctor, and the convenient time for the appointment.

User profile
Patients can create their profile quickly to ease future interactions with the doctor.

In-app chat
App users can interact with one another within the application. The hospital management can choose to minimize the type of regulations as desired.

Doctor location
This feature enables patients to locate the doctor's office for an easy time and travel estimation.

Payment platform
The developers of the doctor appointment app can integrate an option allowing patients to pay doctor's fees through the app at the time of booking appointments.

Review
This feature allows patients to post reviews of the doctor based on their experience during the appointment.

Ask Questions' window
Developers of the doctor appointment mobile application can create a panel where app users can submit health-related questions. Doctors can then submit answers on the same platform.

Favorite doctor settings
Patients can set doctors as favorites using the 'favorites tag', enabling them to choose their preferred doctor easily and quickly in the future.

Document uploads
This feature allows doctor appointment app users to attach and save health-related documents for future reference by their doctor.

Scheduled calls
Patients can choose to receive calls from the doctor while at home, in the event of an emergency.

Historical records
Records of patients' treatment history can be found on this panel, for easy retrieval in the future.

Family member's records
Patients can use this function of the doctor appointment mobile application to upload health details of their family members.

Search radius and map integration
Set the search radius for view doctors and clinics within your location. Therefore, patients can visit their preferred hospital without any trouble.

Doctor profile
The doctor appointment app will enable patients to see the identification of the doctor, including the photo and professional qualifications.

Doctor profile
Through this panel, the doctor can develop and update their qualification and other profile details easily. These details are then viewed by patients on their dashboard, leading to more-informed decision-making on which doctor to visit.

Accept and reject booking
Doctors can use this feature to approve or reject scheduled appointments.

In-app chat
Users can communicate with one another within the app. Doctors can use this feature to interact and consult with their co-workers, juniors, or seniors.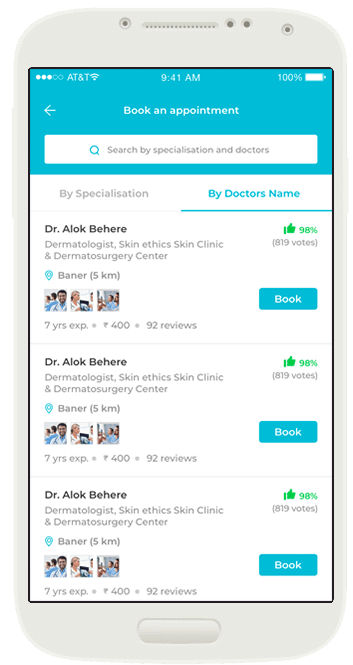 Status check
Doctors can see the daily details of their appointment on the doctor appointment app. They can also update their availability.

Booking slot updates
Edit appointment schedules to fit the doctor's availability.

Online prescription
Doctors can share medication and drug prescriptions with patients through the doctor appointment app.

Social media plugin
The doctor appointment booking app development team will integrate the app with social media accounts of users. This feature will enable doctors to login to their social media profiles with ease.

Availability settings
The doctor can set their availability as desired, on the app.

Treatment records and Patient details
Upload details and history of patient treatment on the doctor appointment app, for future reference.Doctors can view uploaded details of patients and family members.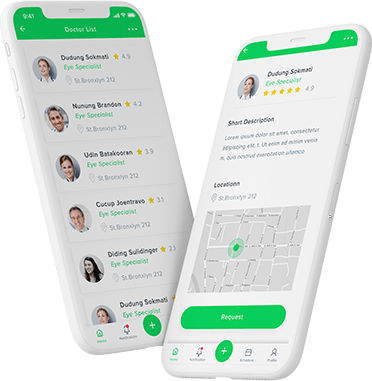 Secure login
The app administrators will have highly secured, password-protected login credentials.

Document circulation
The admins should use the doctor appointment app to circulate informative articles to doctors and patients.

Booking management
Channel booking slots to patient and doctor panels, and edit them whenever necessary. The slots should be updated frequently for smooth operations of the clinic, as well as to minimize inconveniences to customers.

Doctor management
Use this feature to check doctors' profiles and approve after verifying their authenticity.

Manage booking app
View and update details of the booking app to ensure the truth and reliability of bookings, including the clinic's or room details, and the available slots.

Report management
Automate drug prescriptions and appointment reports for easy view by doctors and patients. Hand-written notes can be scanned and recorded in the system for viewing on the doctor's and patient's panels of the doctor appointment booking software.

Service module
Update the available services frequently for smooth operations of the clinic by front-desk staff and doctors.

Create sub-admins
The
online doctor appointment app development
team will issue rights to admins to enable them to create sub-admins whenever necessary. This functionality will ease the assigning and delegation of less-crucial roles to support staff.

Treatment records
The feature of the doctor appointment mobile application will enable the admin to view and generate the treatment history of patients and doctors for purposes of monitoring performance and productivity.

Ad management
Admins can upload and manage advertisements and banners to run on the patient's dashboard on the app.

One-touch
This feature enables the doctor appointment app users to contact the clinic or doctor with just one touch. Therefore, patients do not have to log off from the app to make a call, but they can simply contact you by pressing on the call button.

Contact details
A clinic or hospital using the doctor appointment booking software can list down all its contacts, including physical address, phone number, email address, fax, and web URL. This feature would improve accessibility by customers and other prospects.

Push notifications
This feature allows the clinic to contact patients using targeted, push alerts to update them on new services on offer, or even to appreciate them. Use this function to stay connected to your clients and to promote your business.

App analytics
Keep up with the performance of your doctor appointment app by running reports on user experience and reviews. This feature helps you to understand which areas of the app to improve on to offer a better experience for your patients.

Cost calculator and health tracker
This feature can enable patients to view and understand the cost of their appointments and drugs. Patients can also use this feature to keep track of their vitals and health improvements.
Frequently Asked Questions (FAQs)