Healthcare App Development
On-demand healthcare software solutions with industry-standard specifications.
Get a custom-made application from experienced healthcare technology experts to meet the ever-growing healthcare client base.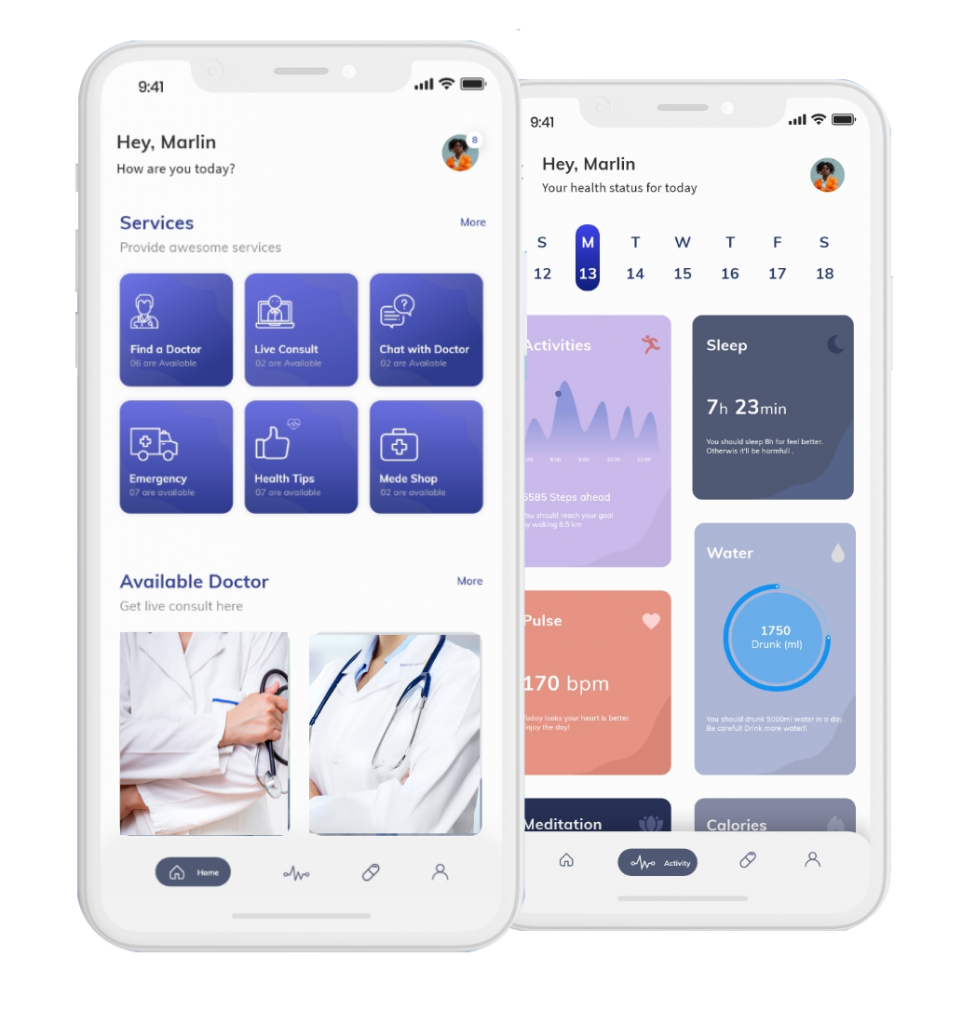 About the Healthcare App Development Service
Healthcare app development services are always on demand to meet the growing needs of hospitals, health practitioners, and patients. The goal is to build a stable and safe application, which not only ensures the security of client data but that which can also save lives. We help healthcare practitioners to deliver care into the hands of the patients by developing healthcare applications with advanced functions for bill management, queue management, and a healthy patient-to-physician ratio.
iStudio, the best mobile app development company in India, has a team of experienced and talented developers with a passion for creating feature-rich and customer-friendly healthcare applications. These apps will enable patients to contact and engage with healthcare professionals on time, as well as improve the management of patient's health through, for instance, emergency services, medication tracking, and a healthy lifestyle. Every business in the healthcare industry should, therefore, invest in a high-performance and appealing healthcare app for efficient service delivery.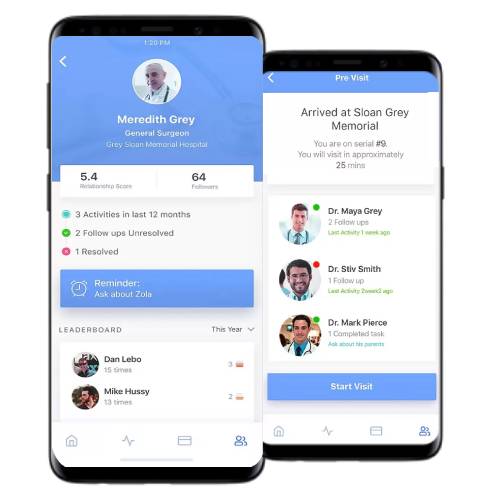 Types & Features of Our Healthcare Apps
Our healthcare application developers have invested their skills and expertise in developing healthcare apps to suit specific types of users. It is important that before investing in an app, that you assess whether your idea fits into it, to avoid getting lost. When choosing, look at the features you would want most in the application, such as mobile medication alerts, geolocation settings, and phone-to-text capabilities. Once done, you can choose from any of the following healthcare applications: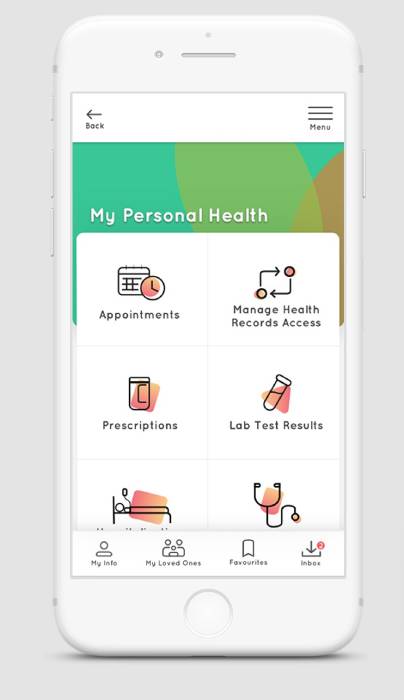 EHR/EMR applications
Electronic health records (EHR) apps store data on patient diagnoses and medical conditions for access by the clinic, hospital, or other healthcare service provider. Electronic medical records (EMR) apps, on the other hand, store data on one particular health condition and act as a historical record of the disease history.
Our healthcare mobile app development team are experts in designing user-friendly EHR and EMR mobile healthcare softwares for real-time access and update of electronic records of patient health. These apps have interfaces for tracking patient data, such as history, symptoms, and vitals, among others.

Personalized telehealth and remote monitoring apps
The objective of these applications is to transmit patient information remotely to health care practitioners in a different location. They allow physicians and practitioners to relay patient medical information, such as LifeScan and remote oxygen checks.
Our healthcare app developers build custom telehealth applications for the delivery of remote health services, as well as for the training of healthcare workers. We offer personalized and subscription-based telehealth app development services for improved patient engagement, virtual doctor-patient sessions, video streaming, and call routing. These solutions are applicable in iOS and Android devices, enabling users to leverage advanced healthcare app features, such as VoIP, camera, and messaging tools.

Health information exchange (HIE) apps
These feature-rich and powerful healthcare applications are built to enhance the exchange of information between patients, doctors, and nurses. Our
healthcare mobile app developers
customize HIE applications for prompt and easy access to patient data. Users can then share medical records and patient information using a consolidated clinical document platform.

Electronic subscription solutions
These types of healthcare apps come with e-Prescribing (eRx) integrations for safe and secure transfer of medical tests and requests for e-prescription of controlled substances (EPCS). This information is shared between pharmacies, image-scanning centers, and healthcare practitioners, among others. Our skilled team of
healthcare application developers
can also integrate EHR and eRX software solutions, allowing healthcare practitioners to verify patient credentials. The feature also allows for more accurate drug prescriptions using the e-prescription network attached to the EHR/EMR databases.

Medical practice management apps
The
healthcare mobile app developers
can also create solutions for managing the financial and admin activities of medical practitioners. These applications are integrated into modules for patient registration, medical information management, insurance claim management, and administration.

Medicine ordering applications
These on-demand applications are designed by our healthcare app developers to enable healthcare providers to provide patients with affordable and convenient access to over the counter (OTC) medication, prescription drugs, and other healthcare products.

Fitness tracking applications
These apps are created to help patients to monitor their daily workout plans for better physical and mental health. Our developers can design these solutions, enabling healthcare practitioners to gain from feature-rich fitness and training solutions.

Migraine tracking applications
Our
healthcare app development
team can create this solution to enable healthcare service providers to record and monitor patients' migration duration, frequency, and pain intensity for better care.

Emergency assistance applications
These solutions enable patients to call an ambulance or to book lab tests. They enable healthcare practitioners and patients to interact one-on-one, round the clock, leading to improved quality of care.

Hospital way finding applications
Our
healthcare app developers
create these solutions to improve the ability of users to locate healthcare facility's offices. Patients and visitors can use modules, such as 'search' to find physicians, nurses, and departments, among others.

Diet and nutrition tracking applications
The goal of these apps is to enable users to access healthy foods at grocery stores near them. They are affordable and effective solutions for ensuring tracking daily calory intake and burnout.
Women's health apps
These are advanced, feature-rich applications, which enable women to monitor their appointment schedules, as well as access useful information on infant care and pre and postnatal care.

Revenue cycle management (RCM) applications
Our
healthcare mobile app developers
create custom-made RCM apps for faster, easier, and secure payment cycles by healthcare providers. This software has modules for verifying patient's eligibility for insurance cover, claim processing, automated payments, and data retrieval. The mentioned modules can also be incorporated into one or multiple HIS systems for payers. They can also be linked to third-party networks to derive benefits, such as patient demographics, historical data capture, and specialty healthcare management.

Personalized healthcare integration apps
The process of
healthcare app development
comprises of multiple integrations on the existing healthcare system, allowing practitioners and nurses to exchange information between medical practices with ease. The personal health records apps also enable patients to share their health information with doctors before visiting the doctor, allowing the latter to understand the latter's history. They allow for better-informed medication prescriptions.

Health Level 7 (HL7) interface apps
Our
healthcare mobile app developers
develop personalized HL7 solutions for improved management of data and workflows and application interfaces. HL7 standards are ideal for practitioners handling multiple records of clinical documents, patient care data, pharmaceutical information, and messaging, among others. Our developers use them to interface healthcare records and communication with HIS, PMS, and billing systems. We also integrate interface solutions from Mirth (Connect), Infor (Cloverleaf), and Cerner (OPENlink) within the scope of our HL7 services.

Assistive technology apps
Our
healthcare app development services
provide personalized assistive technology solutions for people with disabilities. The goal is to enhance the quality of care for individuals suffering from conditions, such as the deaf and hearing impairment. For this category, we create public communication softwares, as well as modules for listening gadgets, such as frequency modulation and audio inputs. We also craft modules or the blind and visually impaired using technologies, such as smart magnifiers, GPS trackers for descriptive audio movements, and spatial-aware mobility aids. Other assistive technology features include Augmented and Alternative Communication (AAC) solutions, which are integrated into communication softwares for tablets and iPads. We also provide personalized communication modules for Speech-Generating Devices (SGD).

Pharmacy management apps
The
healthcare app developmen
t team creates solutions allowing pharmacists to perform their daily tasks seamlessly, as well as to adhere to medication, and patient welfare programs. The pharmacy management applications can be customized to ensure improved healthcare process management using modules, such as medication lists, workflows, compliance, and pharmacy analytics. The pharmacy automation system can enable the management to improve its workflows and accuracy by, for instance, using programming robotic dispensing functions. These features can automate processes, such as prescription fills and drug formula computations. Another feature of pharmacy management applications is the inventory management system, which is developed by integrating barcode scanners and database management systems. Our
healthcare app development
process incorporates these systems to achieve automated stock management through modules, such as drug tracking, warehousing, and restocking.

Personalized veterinary practice management apps
These applications aim at enhancing the overall efficiency of veterinary services. Our
healthcare app development
team incorporates modules, such as patient data records, platform scheduling, treatment trackers, client menus, and inventory management, into the applications. We also develop custom-made veterinary applications for delivering medication from primary and emergency veterinarians to local practitioners. Other important features of these apps include a GPS tracker, which is embedded into Radio Frequency Identification (RFID) to track pets. We develop this feature using industry-standard programs, such as the Geographical Information System (GIS).
Frequently Asked Questions (FAQs)