Inventory Management Software
Maintain a perfect equilibrium of your on stock inventories
Inventory Management Software
Handling inventories requires special dedication in terms of time and effort, with the stereotypical approach, companies, industries and manufacturing units will keep facing issues in handling their SKUs. The solution here is to adapt to the evolving conditions of software advent and go with the best one.
We at iStudio Technologies offer highly customized inventory management software that helps manufacturers to improve their productivity and effortlessly handle parts usage.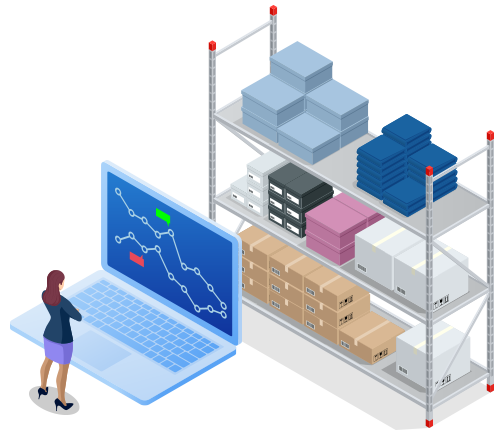 Benefits of Inventory management software
A complete set of Inventory Management Features
Spare parts play a pivotal role in the production, and improper handling of spare parts would lead to misery, by continuously following traditional spare part management approach manufacturers will suffer further loss for sure. Placing our inventory management software into your operations will fix the routine issues in handling your spare parts and paves the way for smooth production.
What you can avoid with our software?
Either you are an SME or a huge manufacturer who produce tons of products; you desperately need to maintain a perfect record of your suppliers to carry out friction-free production. Our effectual inventory management system maintains a neat book of records on your suppliers that will be a supportive backbone in uplifting your production. Our unique touch reflects in bringing supplier management in the mobile app, where you can view all the inflow and outflow details of suppliers in your palm.
Benefits of Supplier Management System
Purchase of spare parts and inventories needs to get handled in an exclusive way to bring in high clarity for any manufacturer in terms of spending and quality of the purchase. Dedicated inventory management software for your plant's purchase team, to keep updated and to have 360 views on inventory purchased.
We take the purchase habit of manufacturers a step ahead by enabling their purchase team to go online and adopt e-procurement process that helps them to choose the required tool/spare part/ set of inventories for production. Our advanced inventory management software makes things happen to carry out a modified purchase using the smartphone implemented application.
Ensuring the complete set of details was brought in onboard to carry out the inventory management system
seamlessly using the mobile app.
Adding a new Preventive Maintenance
Preventive Maintenance task will retrieve further more details about the inventory to carry out
the maintenance process in a flawless way.