Things Indian SMB's must know about website design
A website is an online hub that generates huge business and promotes your products and service in the digital space. Whatever marketing activities you carry on, still it gets to end up with your website, and your true value customers will be evaluating your potentials and decide upon adopting your need only after reviewing your website.
Web design is the most crucial part of a website, which keeps a visitor highly engaged till the end. It plays the role of decider in the visitor minds to stay or leave the website in the mid.
At the end of the day design of a website acts as the front face and the quality of content and technology framework you have used will stand behind when compared with website design.
Being the most prominent web design company in Chennai, iStudio Technologies offers you a highly diversified range of design patterns for your website to out beat the existing competition and stay ahead in your industry.
Since our existence in this online space is highly notable, we know the exact requirement of having a great website and its importance for any business.
We would like to create a better awareness through this blog for our Indian SMB's (Small Medium Businesses) by providing useful facts on website designs.
This blog section will give you a transparent view on web design creation, and its high contributing factors. By implementing these factors, you will get a great chance of driving more potential traffic towards your website.
1. Factors Deciding Web Design Cost
The cost estimation for designing a website will keep varying from company to company, and this gets even diversified in a country like India. But the key factors which decide the rate of a website design stays constant.
We at iStudio Technologies, being the top web designing company in Chennai, take the ultimate authority in segregating different factors that influence a website's cost.
Features and Functionalities- Features and functionalities acquire 61.5% of the total costing imposed on any website design. Designing world gives high priority for these two factors when it comes to web design creation because of their sheer uniqueness.
UI/UX- Next comes the user experience (with 46.1% of share in total web design quoting), no matter how unique your product is, still it needs to be portrayed better in your website, and your visitors must have to a feel-good moment during website accessing. It also plays a crucial role in deciding the conversion rate of your website visitors. We at iStudio technologies involved in providing the most fantabulous website design services in Chennai with enhanced user experience and better display of product or service functionality.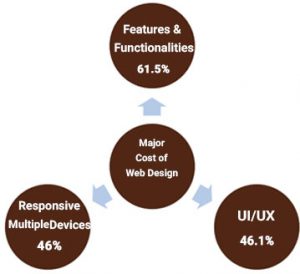 Responsive Website- Since mobile inception, responsive websites are gaining high popularity, and there is always greater demand in creating it. Being responsive (fair display in multiple devices) is a mandatory feature in today's website and it grabs a respectable third position by holding a share of 46% while charging for web designing.
Better content management system, enhanced usability and navigation with proper SEO support are also the key deciding factors present in cost estimation for web design creation. Being the most eminent web design company in Chennai, iStudio Technologies gives equal importance to all these factors while designing and estimating cost for a website.
2. Time Taken To Create A Website Design
It is the website type which decides the exact time frame in creating its speculated design. As per global standards, the most efficient companies (80.7%) take up to 1 month in creating a complete design for a website followed by 24.3% of the level B companies takes 1.5 months.
We are a highly efficient web designing company in Chennai develops quality designs for your website within a one month period irrespective of your website nature.
It is essential for startups and SMB's to get to know about designing tools used to design their website. Having a better awareness of designing tools implemented on your website helps in self-evaluation.
According to a global survey, Adobe's Photoshop and Illustrator are the in the lead position with 88% of designers usage followed by sketch (a part of macos) with 76% usage. We are the most updated web designing company in Chennai, using high-end designing tools for your website.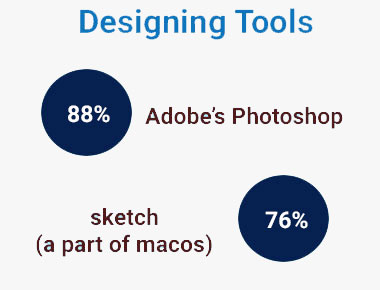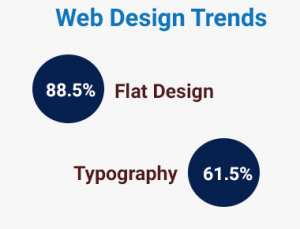 Since the web designing industry is a highly dynamic one, it keeps ogling with new trends often. We are one of the most experienced web design company in Chennai who closely follows the trends in web design patterns and adopts the required pattern as per the industrial need. As per current standards, holding a flat design (88.5%) with expressive typography (61.5%) is found to be the most commanding move in creating the trendiest and effective design for your business.
Today's SMB's are creating a lot of mistakes on their website that not just decimates their online presence; instead it also hugely affects their business and growth in customer rate.
Crowded web design (84.6%) is found to be the most common mistake found in any SMB's website which adds a chaotic feel in visitor's mind. The absence of proper Call-to-action button (38.5%) in the corresponding point of a web page highly affects the conversion rate.
According to the survey carried out among the mixed sample of web design experts and tech-users, whitespace mishandling contribute 19.2% of conversion loss for a website, and this is a huge number for any SMB. We are the top web designing company in Chennai, eliminate these errors and provide the best design you ever had.
6. Reason For High Bounce Rate
Have you ever wondered why your website visitors leave your page in the mid It may vary for every single visitor but still, there are certain factors which need to considered immediately
7. Right Time For Website Redesigning
There will be a time your website gets outdated you need to revamp your site and bring fresh energy to boost the confidence among your targeted users. By closely following your website performance it is possible to estimate whether there is a real need for website redesigning.
We are efficacious web designing company in Chennai, who involves in the most accurate redesigning work for any complicated website.
Hiring a dedicated designing team or outsourcing your web design project to a dedicated service provider will always be adding greater advantage for your site. We are the best web designing company in Chennai who are involved in creating top web designs with better quality, ability to get converted, and on-going support for your website.